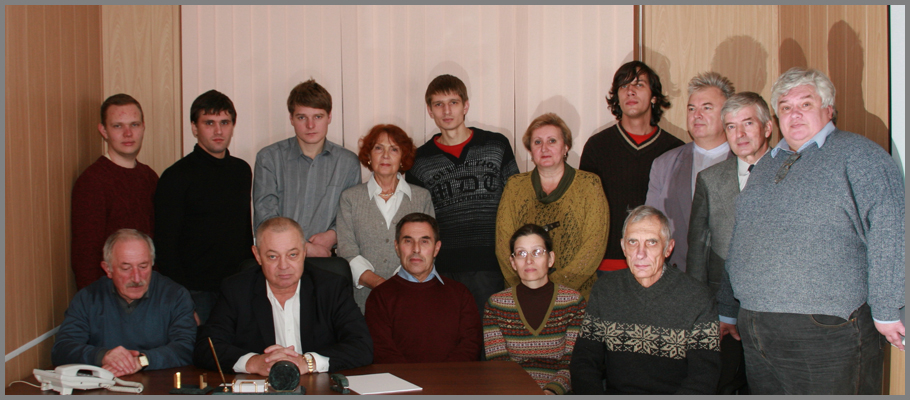 (phone: +7-499-135-64-94, +7-499-135-90-72; E-mail:

)
Staff:
Antipov A.V., Belen'kiy G.G., Boiko V.E., Don V.P., Dyachenko V.I., ДKagramanov N.D., Kurikin M.A., Mysova N.E., Petrova O.E., Sterlin S.R., Tyutyunov A.A.
Areas of Research Activities:
Development of new methods for syntheses of organofluorine compounds (selective fluorination, injection of fluoro-containing moieties). Research of reactivities of fluorine-containing compounds and a search for new fields of their applications.
Grants and Contracts:
а) Agreement of Research Collaboration with company «DuPont Science and Technology» No. 4/08;
б) Grant RFFI — Turkey No. 09-03-91227 (jointly with Laboratory No. 311)
«New nanocomposition materials prepared by impregnation of organometallic and conductive compounds under supercritical conditions»
Publications (2008 — 2010):
1. L.M.Yagupolski, V.Е Platonov, Yu.V. Zeifman. Collection "Synthesis of Organofluorine Compounds", 2009.
2. S.M. Igumnov, E.V. Igumnova. "Synthesis of Organofluorine Compounds. Part 1», 2nd edition, Moscow, SIA «P&M-Invest Ltd.», 2010, 251p.
3. N.I. Delyagina, V.F. Cherstkov, S.R. Srerlin «Reactions of bis(fluorosulfonyloxy)tetrafluoroethane with nucleophiles», Fluorine Notes, 4(65) 2009.
4. D.J. Verbritski, М.А. Kurykin, "Reactions of polyfluorinated β-diimines with perfluorocarboxylic acid fluorides", Fluorine Notes, no. 3 (64), 2009.
5. V.K. Grinevskaya, D.P. Deltsova, L.L. Gervits, "Reactivity of N-perfluoromorpholinyl azaanion», Fluorine Notes, no. 2(63), 2009.
6. А.F. Gontar, V.А. Vyazkov, V.К. Grinevskaya, E.V. Igumnova, S.М. Igumnov. "1,1-Dihydroperfluoroalkylamines. Communication (II)", Fluorine Notes, no. 4(65), 2009.
7. А.F. Gontar, V.L. Don, E.V. Igumnova, S.М. Igumnov. "1,1-Dihydroperfluoroalkylamines. Communication (I)", Fluorine Notes, no. 3(64), 2009.
8. V.А. Grinberg, S.R. Sterlin. "Electrochemical fluorosulfation of organofluorine compounds" (review), Electrochemistry, 46, no. 8, pp. 899–926, 2010.
9. А.Yu. Volkonski, E.М. Kagramanova, E.I. Mysov, N.D. Kagramanov. "Fluorinated β, β-disubstituted trimethylsilylvinyl ethers. Synthesis and reactions with N-(1,1,2,2-tetrafluoroethyl)dimethylamine", Izv. Rus. Akad. Nauk, Ser. Khim., 2010, no. 3, pp. 557–563.
10. А.А.Tyutyunov, V.E. Boiko, S.М. Igumnov. "Unusual reaction of (trifluoromethyl)trimethylsilane with sodium borhydride. Synthesis of (difluoromethyl)trimethylsilane", Fluorine Notes, № 7(73), 2010.
Historical Background and Main Achievements:
The Laboratory of Organofluorine Compounds was founded in 1954. The Laboratory was headed by outstanding scientist, Member of the USSR Academy of Sciencescian I.L. Knunyants who has founded the famous soviet school of organofluorine chemists. Academician I.L. Knunyants. Since 1987 the Laboratory has been headed by Knunyants's students: Professor L.S. German (1987–1994), Doctor of Chemistry G.G. Belenki (1994–2009), and Doctor of Chemistry S.M. Igumnov (2009— at present).
In accordance with the title of the Laboratory, one of the main research activities has been devoted to methods for introducing fluorine in organic materials to prepare organofluorine compounds. This line of the research has resulted in discovery of reactions of conjugated addition of electrophiles and fluoride-ion to alkenes and fluoroolefins in anhydrous HF (fluoronitration, fluoroalkoxymethylation, fluoroaminomethylation and etc.). These results formed a basis for creating a method for producing α-fluoroacrylic acid esters (monomers for heat-resistant organic glasses), which was realized in industry. Studies of mechanism of direct fluorination of organic compounds made it possible to develop a process for synthesizing 5-fluorouracil. In the course of studying electrochemical fluorination and other electrochemical processes, hydrodimerization of acrylonitrile leading to adiponitrile has been discovered. This reaction is accepted as a basis for industrial production of nylon.
Organic sources of non protonated fluoride-anion have been discovered (substitutes of KF, CsF). Their application made it possible to develop and put into practice industrial processes for production without autoclave of fluoroaromatic compounds, perfluoromethyl vinyl ether (a monomer for special polymers used in aerospace industry), bromoperfluoroethyl vinyl ether (BrAVE — a monomer for manufacturing special polymers).
Another natural direction of the research carried out in the Laboratory is studying reactivities of organofluorine compounds. These works have brought the huge contribution to this field and resulted in discovering, understanding and applications of the surprising reactivity of organofluorine compounds. It is established that unlike non-fluorinated alkenes, perfluoroolefins are electrophiles, not nucleophiles. It was shown that nucleophiles can be added to the perfluoroolefin double bond to form carbanions which then eliminate fluoride-anion either from α-position (vinyl substitution) or from β-position (allyl substitution), or the carbanions add an electrophilic particle (a proton, halogen, acyl and etc.). Studying these mechanisms allowed us to create the basis for development of a number of industrial processes for production of various organofluorine compounds and materials and realize them in industry.
One of the most surprising discoveries proved to be the formation of perfluoroalkyl carbanions in reacting fluoride-anion with highly electrophilic fluoroolefins, which can be alkylated, acylated halogenated and etc., like usual carbanions; in addition, these perfluoroalkyl carbanions can react with initial perfluorolefins to give dimers, trimers and more high-molecular oligomers, like usual alkenes in cation oligomerization under the action of proton. As a result of these studies the sources of fluoride anions, stabilized by organic cations (immonium cations) have been prepared in the Laboratory. These sources of fluoride-anion made it possible to synthesize the "stable" perfluoroalkyl carbanions for the first time and characterize them by NMR spectra as individual substances.
However, despite electrophilic nature of perfluoroolefins, our scientists managed to select conditions under which perfluoroolefins are donors of electrons. The fact, that carbenium ions can be generated from perfluoroolefins and their derivatives in the presence of antimony pentafluoride, which are capable of reacting with nucleophilese, has opened wide opportunities for synthesizing fluorinated alkanes, alkenes, ketones and perfluoroalkyl organoelement compounds. The realized reactions of the conjugated electrophilic addition to fluorolefins (which are usual for non-fluorinated alkenes) made it possible to develop the remarkable processes that allow one to obtain easily a great number of various functionalized organofluorine compounds from fluorolefins.
Properties of perfluorocarbonyl compounds, ketones, fluoronitrozo and fluoronitro compounds were thoroughly studied. As a result the new processes of electrophilic addition of perfluorocarbonyl compounds to weak acids and aromatic compounds have been developed. A process for the preparation of hexafluorodiane — a well known and widely used monomer — has been developed.
1,1,3,3,3-Pentafluoropropenol-2, which is a stable enol of pentafluoroacetone, was synthesized for the first time. Methods for the synthesis of fluorinated thiocarbonyl compounds, their enthiols and other derivatives have been created, and the properties of these compounds have been studied.
Nucleophilic chlorotropy, consisting in reversible transformations of α-chloroperfluorothioketones in perfluoroalkenylsulfenyl chlorides has been discovered.
Methods for the synthesis of perfluoroalkyl mercury compounds and perfluoroallyl sulfates of various structure have been developed.
The scientists working in the Laboratory obtained artificial blood substitute (Perftoran) and realized its production.
There is no doubt that it is difficult to overestimate the contribution of the scientists who worked or are working in the Laboratory, to the theory of organic chemistry and new technologies for production of important substances and materials.
I.L. Knunyants was a teacher of a number fluorine chemists, well known in the international professional community, who started their research activity and worked for many years in the Laboratory, and some of them are working now, namely L.S. German, B.L. Dyatkin, E.M. Rokhlin, R.A. Bekker, V.R. Polishchuk, Yu.A. Cheburkov, N.P. Gambaryan, K.N. Makarov, Yu.V. Zeifman, V.A. Petrov, G.G. Belenki, S.R. Sterlin, S.M. Igumnov, V.F. Cherstkov, M.F. Kurykin.