A.N.Nesmeyanov's Memorial Museum-study
Head of the museum Dr. Elena V. Leonova

(Tel. 7-499-135-93-53 or 7-499-135-78-25)
Member of the Academy of Sciences A.N.Nesmeyanov (1899–1980) — prominent Russian scientist and scientific organizer, who has founded the modern chemistry of organoelement compounds, President of USSR Academy of Sciences (1951–1961), Head of INEOS (1954–1980), member of Academy of Sciences and many other Academies, remarkable (wonderful) man and citizen. Memorial museum had been created in 1985.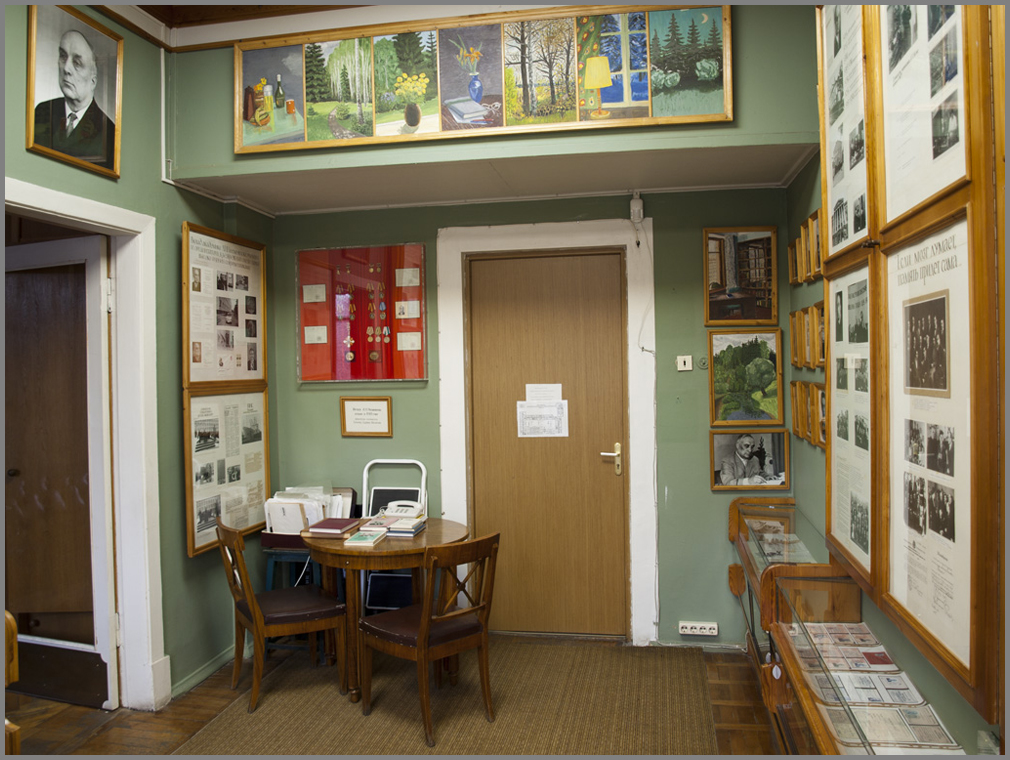 Museum's exposition is placed in two rooms of late Nesmeyanov's study, architect-decorator Zulfiya Malykova. Collaborators of two organometallic laboratories (INEOS and Chemical department of Moscow University), Nesmeyanov's family took part in collection of different materials, documents and photos.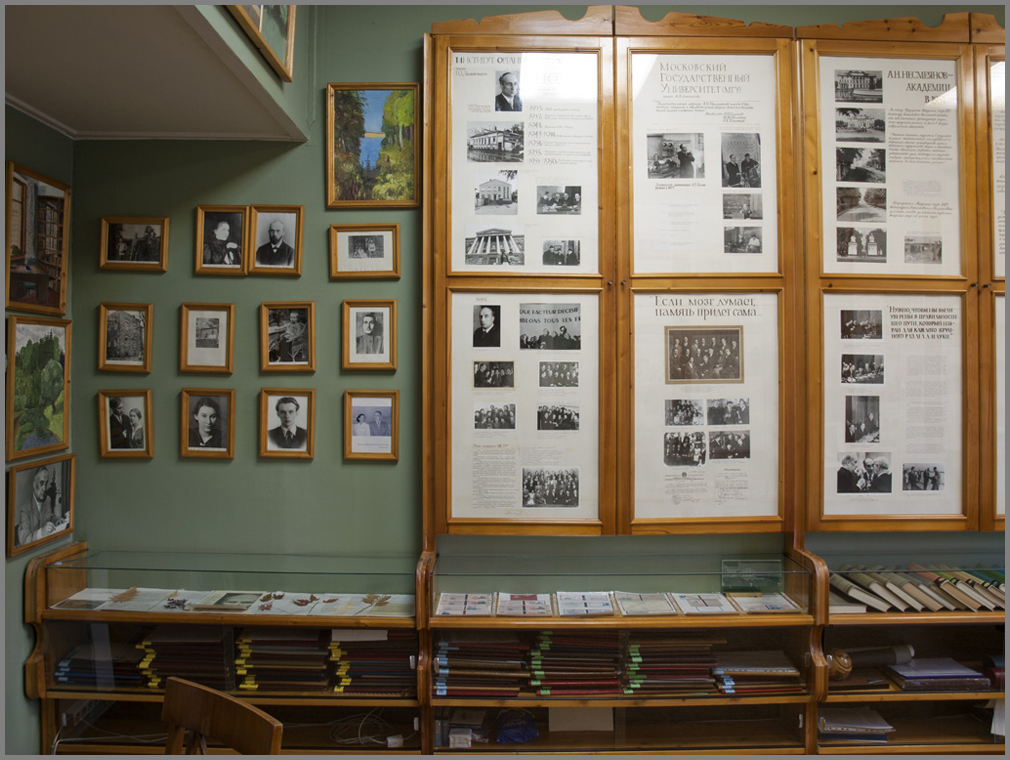 Museum's exposition is showed vast Nesmeyanov's involvement in organization and development of science in our country. There are different documents about various scientific, scientific-organized and social (public) activity of A.N.Nesmeyanov and his activity as Moscow University rector, president of Academy of science, founder (creator) of Institute of organoelement compounds and Institute of artificial food, head of INEOS.
Common area of exposition is 36,7 m2 (2 adjacent rooms). Common quantity of keeping unit in exposition is about 1000. There are: complete scientific works pl., publications, patents, photos, letters, different documents, decorations etc.; pictures painted by A.N.Nesmeyanov and his relations, congratulations and presents, museum's review book.
The main themes of exposition:
A.N.Nesmeyanov and Institute of Organic Chemistry
Pedagogic and organized activity of A.N.Nesmeyanov in Moscow University
A.N.Nesmeyanov is President of Academy of Sciences
A.N.Nesmeyanov is Head of INEOS
A.N.Nesmeyanov and problem of artificial and synthetic food
Scientific activity of A.N.Nesmeyanov
A.N.Nesmeyanov founder (creator) of organoelement's school, which is widely known in chemical world.
Museum's fund are filling out.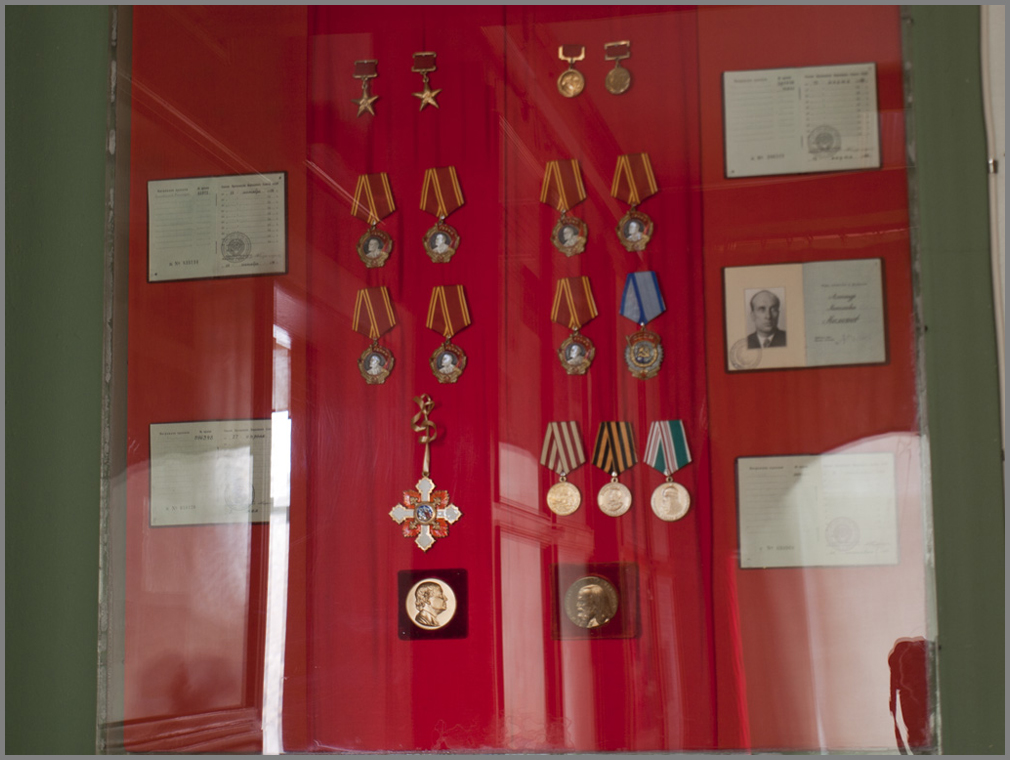 A.N.Nesmeyanov centenary was at 9 September 1999. This data was widely celebrated in Russian Academy of Sciences, Moscow University and our Institute. The book "A.N.Nesmeyanov Institute of Organoelement Compounds" was written by group of authors in INEOS (M.: Nauka, 1999, 395 p.: ill.). It dedicated 100th anniversary of A.N.Nesmeyanov. Museum's exposition was used for its preparation. Numerous Nesmeyanov's photos from museum were used in different articles about life and scientific activity of A.N.Nesmeyanov in Russian and foreign magazines.
Some museum's exposition and main scientific works were shown in Presidium RAS on ceremonial meeting, dedicating to 100th anniversary of A.N.Nesmeyanov.
Museum is open 5 days in week. Students, post-graduate students, collaborators of our Institute and another chemical Institutes, foreign scientists are visited A.N.Nesmeyanov's museum.